DART's Research Studies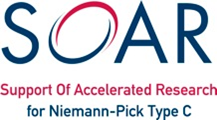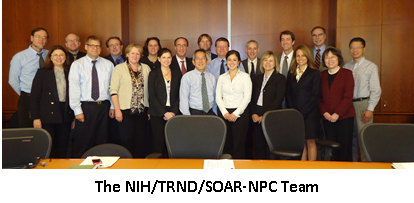 DART is taking the lead in committing to a unique therapy development approach for additional NPC treatments called SOAR, Support Of Accelerated Research. Working with other NPC families and organizations, SOAR has created a multidimensional collaborative drug development program searching for an effective cocktail treatment for NPC. The ambitious goal is to have at least one new NPC therapies ready for clinical trial in 2013.  With the start of the FDA approved Phase 1 clinical trial of cyclodextrin at the National Institutes of Health, and more hopeful therapies in our pipeline, our goal of a "drug cocktail" are starting to take shape.
There has been a large, collaborative effort to initiate a cyclodextrin clinical trial at the National Institutes of Health (NIH) to systematically evaluate the safety and efficacy of cyclodextrin therapy for the treatment of NPC. The exceptional work that has been done in NPC animal models has guided the design of a human clinical trial.  Together with the Therapeutics for Rare and Neglected Diseases (TRND) group at the NIH, as well as several NPC researchers, Johnson & Johnson, and consultants from RRD International, LLC, the collaborative team is working to submit an Investigational New Drug (IND) application to the FDA.
The cyclodextrin trial started in January 2013!
SOAR-NPC was originally conceived by Jonathan Jacoby, NPC father of Joshua.  Dr. Chris Austin, Scientific Director for the Center for Translational Therapeutics at the National Institutes of Health wrote the following about SOAR-NPC and its cyclodextrin drug trial efforts: "Thanks Jonathan – we're really making headway on cyclo, in just the vision you had when you started SOAR.  You would have been very impressed and pleased by the group that assembled here last week and the meetings we had.  I have never been associated with such a multidisciplinary group, and one that works so well together with minimization of egos and a common vision."
DART funding helps discover a blood test for NPC:
Other efforts:
· DART has also funded initial research into possible gene therapy for NPC at Albert Einstein College of Medicine.
· Funding jointly with the Parseghian Foundation:
· Two-year post-doctoral fellowships in neurology at two renowned research institutions; The Scripps Research Institute in La Jolla, California, and at the University of Texas Southwestern Medical School in Dallas, Texas.
· Funding for the contracted nurse support for the NPC observational study at the National Institutes of Health in Dr. Forbes Porter's lab, looking for potential disease markers and even therapies from the detailed, periodic evaluation of children with NPC.
· Important studies looking for markers of the progression of NPC in cats afflicted by NPC and potential therapies to extend the lives of the afflicted cats at the University of Pennsylvania.
· DART's study at Columbia University involved a natural compound, ubiquinone or Coenzyme Q10 in humans. The goal of the study was to understand the benefit, if any, of CoQ10 as an NPC therapy.
· At the University of California, San Francisco, DART and NNPDF, funded research related to the potential use of the drug Prozac, as a therapy for NPC. Unfortunately, they found that Prozac treatment had no effect on the lifespan of the NPC mice nor how the mice gained and lost weight over the course of their lifetime, or in their motor coordination and locomotion.
The Benefits of Niemann-Pick Type C Research
Niemann-Pick Type C (NPC) is a rare genetic disease. But there is growing interest in NPC from researchers in many fields. Why? Because of its connection to metabolism – especially cholesterol and other lipid metabolism.
HIV/AIDS: The NPC protein is critical for the normal trafficking of cholesterol in all of the cells in our bodies. Research shows that HIV-1 release from infected cells lacking the functional NPC protein is severely impaired. Chemical creation of the NPC defect in HIV-infected cells has resulted in drastically reduced HIV-1 release, indicating that the NPC protein associated with cholesterol trafficking is required for HIV release. Thus, further studies may provide the basis for the identification of therapies for HIV/AIDS.
Alzheimer's: Alzheimer's and NPC are progressive neurological diseases with similar effects on the brain. Recent studies comparing the two diseases discovered that Alzheimer's is closely tied to a failure in cholesterol metabolism – the very process that is central to NPC. More researchers need to be looking to NPC to learn about the basic causes and early progress of Alzheimer's.
Heart Disease and Stroke: We all know that high cholesterol is the main cause of heart disease and stroke. But until the gene that causes NPC was discovered, researchers had few opportunities to identify the complex processes that regulate cholesterol. How does the body know if it has too much cholesterol or too little? NPC research is beginning to provide answers.
Other Storage Diseases: NPC is one of 46 storage diseases estimated to affect more than 55,000 people. Some of the other better-known storage diseases are: Fabray, Gaucher, Hurlers, Pompe and Tay-Sachs. All are rare so, in some cases, little or no research is being done. However, all of these diseases have certain features in common. That means that research in one area can lead to breakthroughs for all.
The impact of NPC research, funded by your donations, goes well beyond helping those suffering from Niemann-Pick. It promises hope to other rare disease sufferers and to those of us currently in good health who may one day experience the ravages of HIV/Aids, heart disease, stroke or Alzheimer's.