Children with NPC often die by their early teens. The need for treatments and a cure is great.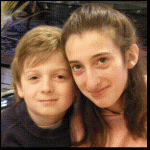 Dana's Angels Research Trust (DART), a 501(c)(3) organization with strictly charitable purposes, was founded by Phil and Andrea Marella to fund medical research, medical education, or medical or hospital care for the treatment or cure of Niemann-Pick Type C disease (NPC) or other similar genetic diseases.
From the age of five, it was apparent that the Marella's daughter Dana, a happy, caring and energetic child, had visual and learning difficulties. Since that time, Dana's visual and cognitive abilities, and her balance have become progressively worse.
After years of searching for answers to her challenges, Dana was diagnosed in 2002 at the age of eight with NPC, a genetic disorder that prohibits the metabolism of cholesterol and other lipids. In 2004, at the age of 5, Dana's brother Andrew, the Marella's 4th child, was also diagnosed with NPC. Dana died from complications resulting from Niemann-Pick type C disease. Read A Tribute To Dana.
DART aims to help all of those (adults and children) suffering from the disease of NPC. Our efforts may also help millions of people suffering from heart disease, strokes, Alzheimer's disease and other disorders that appear to be related to the metabolism of cholesterol.
Key Articles About DART:
2002 Greenwich Time Article pdf
2003 Greenwich Time Article pdf
2010 Greenwich Citizen, Extraordinary Measures Greenwich pdf