Dana's Angels Research Trust (DART) brought together hundreds friends and supporters for its second annual DART to the Finish charity walk held at Greenwich Point Park on Saturday, October 5, 2019.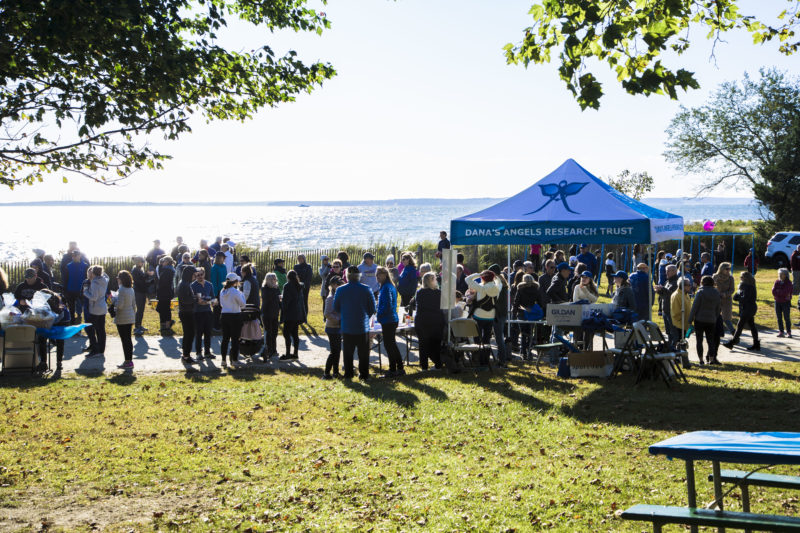 The  day was perfect for a walk along the shores of Long Island Sound and raised over $130,000 for crucial research into the rare childhood disease, Niemann Pick type C, often referred to as "children's Alzheimers."
NPC is so rare that only about 500-600 children in the US are affected and only a few, including Andrew, live in Connecticut. This devastating genetic disorder robs a child of the ability to live a long, healthy life, often becoming fatal in the teenage years. But, Dana's Angels Research Trust is helping to change that fate.
As a non-profit organization, DART raises funds to support pivotal NPC research — research that may also help millions suffering from Parkinson's disease, HIV/Aids, Ebola, heart disease, stroke, Alzheimer's disease and other disorders that appear to be related to cholesterol.
Support of DART continued throughout the day with retailers and restaurants in Old Greenwich  and Cos Cob supporting the cause and donating a portion of proceeds to the charity. The DART "Shop & Share" after the DART Walk participants are: Anna Banana, Sushi Soba, Lily, Housewarmings, Fred, Caren's Cos Cobber, Claudette, and the Back 40 Mercantile.
DART to the Finish sponsors include The Children's Hospital at Montefiore, Jusko Wealth Management Group, Landis Partners, Mallinckrodt Pharmaceauticals, Pepsico, Primary Home Care, Rand Insurance, Roosevelt Investments, Shipman & Goodwin, Bank Raiders, Threads & Treads, Costco, Shop Rite, Starbucks, Upper Crust Bagel Company, Chicken Joe's and Chilly Bear.