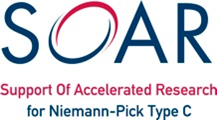 Cyclodextrin Drug Trial Update
November 14, 2012
From Dr. Forbes Porter, Clinical Director of the Division of Intramural Research at the National Institute of Child Health and Human Development, National Institutes of Health in Bethesda, Maryland.
The Therapies for Rare and Neglected Diseases (TRND) team is pleased to announce that the Investigational New Drug (IND) application for intraventricular hydroxypropyl-β-cyclodextrin (HPBCD) was filed with the FDA today, November 14th.  This was a major effort by multiple research laboratories, several NIH institutes, Johnson and Johnson and a team of pharmaceutical and regulatory consultants. This effort would not have been possible without the assistance of the many patient support organizations.
Our ultimate goal is to develop a safe, effective and accessible therapy for all individuals with Niemann-Pick type C1 disease (NPC1).  The IND filing is a major step in this process, but just one of the initial steps.  We are hopeful that the very promising preclinical findings in mice and cats will translate to an effective therapy in individuals with NPC1.  The goal of this first trial is to rapidly determine a safe and biochemically effective dose of HPBCD.  These data are critical to the proper design and execution of a multicenter efficacy trial that will allow this drug, if determined to be safe and effective, to be approved by regulatory agencies, and ultimately to be made available to all NPC1 patients.
We appreciate the ongoing support from the NPC community and will continue to update the community on this trial.
The TRND team
—
DART is taking the lead in committing to a unique therapy development approach for additional NPC treatments called SOAR, Support Of Accelerated Research. Working with other NPC families and organizations, SOAR has created a multidimensional collaborative drug development program searching for an effective cocktail treatment for NPC. The ambitious goal is to have at least two or three new NPC therapies ready for clinical trial in 2013.