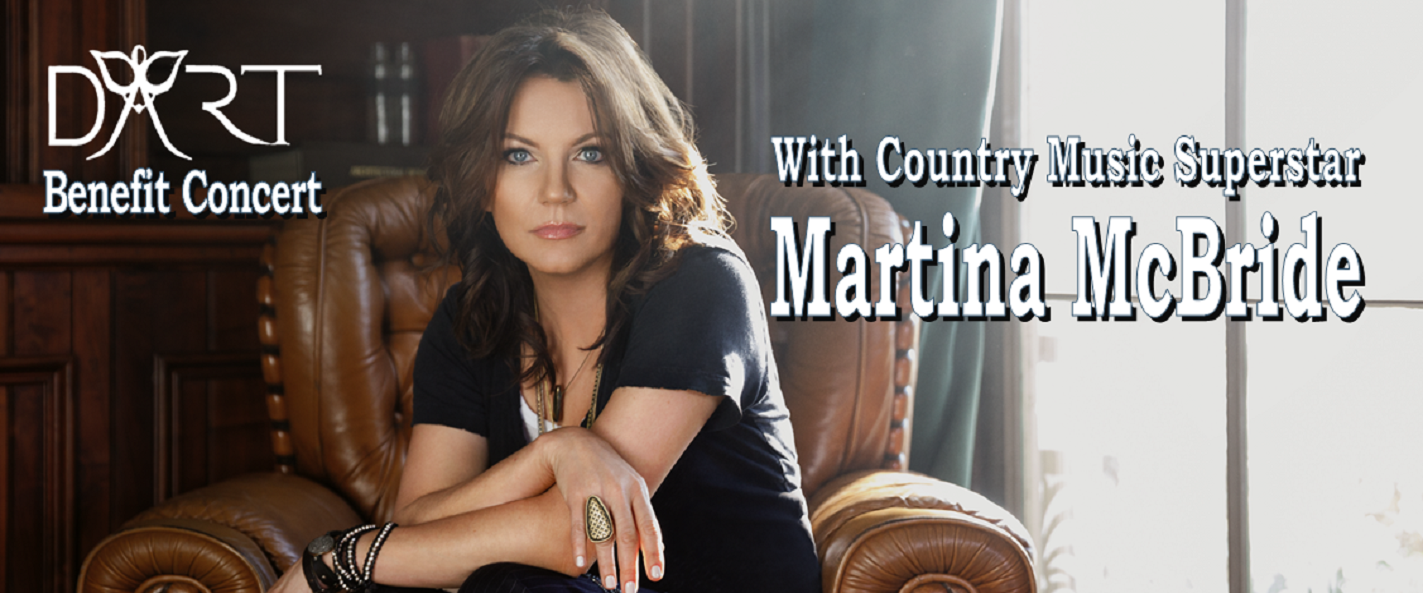 FRANK GIFFORD REMEMBERED
CHARLES VITE OF UNIVERSITY OF PENNSYLVANIA HONORED
AMAZING, ALL-ENCOMPASSING SHOW BY MARTINA McBRIDE
SEE LINKS TO PHOTOS ON FACEBOOK BELOW!
STAMFORD, CT. (November 12, 2016) – On Friday, November 11, 2016 stars and musicians converged at the Palace Theater in Stamford, Connecticut for Dana's Angels Research Trust's annual gala benefit concert.  Florence Henderson, star of the hit television series THE BRADY BUNCH and longtime supporter of DART opened the program as the host for the night. Andrea and Phil Marella, founding trustees of DART, began with a tribute to veterans with the event falling on Veteran's Day, and then remembered their dear friend Frank Gifford, who passed away after DART's 2015 benefit concert and who, along with his wonderful wife Kathie Lee Gifford, hosted DART's benefits for ten years.  "Frank said we were his heroes," stated Andrea Marella, "but the truth is, Frank was ours, and now he is one of our angels. We miss you Frank."    Dr. Charles H. Vite, Associate Professor of Veterinary Neurology in the Section of Neurology & Neurosurgery of the Department of Clinical Studies at the School of Veterinary Medicine of the University of Pennsylvania, and current President of the American College of Veterinary Internal Medicine Neurology Specialty was honored with DART's Guardian Angel Award.  Dr. Vite's efforts for Niemann-Pick type C disease research include being a principal investigator in a unique medical research collaborative for NPC disease called Support of Accelerated Research for NPC or SOAR-NPC.  The SOAR-NPC collaboration recently received the 2016 RARE Champions of Hope Award for Collaborations in Science and Technology from Global Genes, one of the leading rare disease patient advocacy organizations in the world. The awards portion of Friday's gala evening concluded with NASH-FM 94.7's Jesse Addy introducing Martina McBride.
Following the awards, guests were treated to an electrifying concert by 4-time CMA Female Vocalist of the Year, Martina McBride, which brought the Palace Theatre crowd to their feet.  Ms. McBride sang an unforgettable collection of hits including This One's For The Girls, Independence Day, When God Fearing Women Get The Blues, Broken Wing, Anyway, which got a standing ovation and from her new album, Reckless, the title track, Diamond and other hits. She acknowledged how happy she was to be there to help Dana's Angels Research Trust.
The evening began with a gala reception where people enjoyed cocktails, hors d'ouevres and food from the world famous New York City Italian restaurant Rao's and Dinosaur Barbecue. Guests also participated in a silent auction and had the opportunity to meet TV icon, Florence Henderson, as she mingled throughout the crowd and graciously posed for pictures. There was an exciting live auction featuring one-of-a-kind luxury items. One of the fabulous auction items, a 4-hour cruise on an 85-foot luxury sailing yacht sold for $7,000.  Also included in the auction was dinner at Rao's, hosted by real-life "French Connection" detective Sonny Grosso himself, which went for $9,000 and was kindly offered twice by Sonny, gaining another $9,000! A pair of tickets to the hottest show on Broadway, Hamilton, with an overnight stay in NYC, went for $6,000. Dana's Angels Research Trust raised over $325,000 benefiting the medical research to find a cure or treatment for Niemann-Pick type C disease, a disease that affects children and is at present incurable. Each year celebrity guests attend the event, which has raised over $4 million to date.
Sponsors of this year's event included Titan Advisors, Shipman and Goodwin LLP, Wells Fargo Advisors, Vtesse, Leerink and others.
GALA RED CARPET PHOTOS – CLICK HERE
GALA RECEPTION PHOTOS – CLICK HERE
NPC FAMILY MEET & GREET PHOTOS – CLICK HERE
PRE-CONCERT PRESENTATIONS & AUCTION PHOTOS – CLICK HERE
MARTINA McBRIDE CONCERT PHOTOS – CLICK HERE