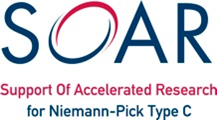 UPDATE: FDA Approves NIH TRND Team for NPC Cyclodextrin Clinical Trial!
~ January 11th, 2013 ~
"We  were informed today that the FDA has removed the clinical hold on the  hydroxypropyl-β-cyclodextrin trial.  We are planning to enroll the first  patient in two weeks.   This trial is a major step in trying to  determine if this is a safe and biochemically effective drug for NPC.  Our  goal is to use data from this trial to optimize the design of a larger second  trial focused on clinical efficacy.  Thank you for your help and support!

The  TRND Team"
—
DART is taking the lead in committing to a unique therapy development approach for additional NPC treatments called SOAR, Support Of Accelerated Research. Working with other NPC families and organizations, SOAR has created a multidimensional collaborative drug development program searching for an effective cocktail treatment for NPC. The ambitious goal is to have at least two or three new NPC therapies ready for clinical trial in 2013.