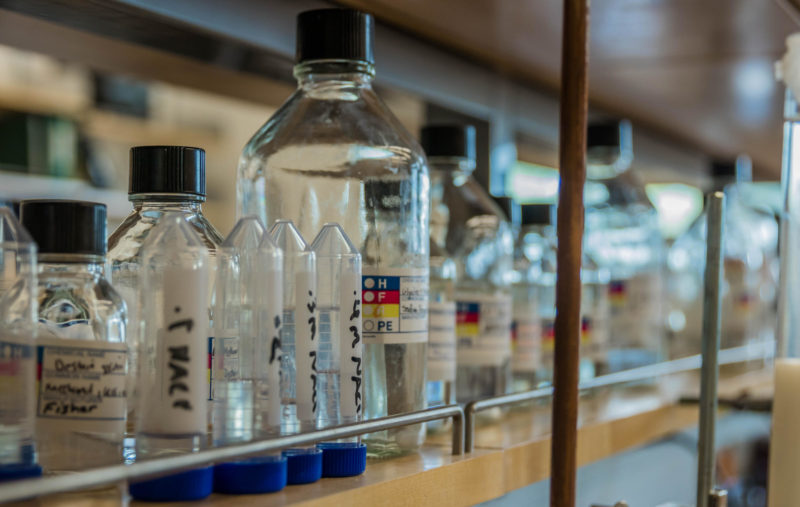 August 11, 2019 • By Elsa Partan & Heather Goldstone • Living Lab Radio on WCAI-FM, Cape Cod, MA
Listen to the entire radio interview here:
It's tough to study rare diseases. Because they affect only a small percentage of the population, it can be hard for researchers to find funding. It's also challenging to do clinical trials, since there are a small number of people who can take part.
But rare disease research can yield discoveries that impact all of us.
Take Niemann-Pick Disease Type C. Unless you know someone who has it, you've probably never heard of it. It's a rare genetic disease that disrupts the movement of cholesterol and other fats within cells. About 400 people in the United States have it.
The end result varies widely, from death in the first few months of life to milder, chronic problems that may go undiagnosed until well into adulthood.
Researchers have zeroed in on the cause of the disease, but a cure has been elusive. Decades of research have uncovered some surprising connections, though.
"The interesting thing about Niemann-Pick Type C is that it also happens to be the cellular receptor for the Ebola virus," said Stephen Sturley, a leading researcher on the disease.
Sturley is a professor in the department of pediatrics at Columbia University, a professor at Barnard College, and a member of the scientific advisory board for the National Niemann-Pick Disease Foundation. He first became interested in the disease because his research focuses on cholesterol and he was one of the first researchers to be funded by the Ara Parseghian Medical Research Fund.
"If you don't have the Niemann-Pick Type C protein, then one prediction would be that you'd be resistant to the Ebola virus," he said.
In other words, if a medicine could cause a short-term case of Niemann-Pick Type C disease, it might prevent those exposed to Ebola from contracting the disease. This is a current area of research, Sturley said.
Another unexpected connection: the drug that is currently in FDA trials to treat Niemann-Pick Type C is beta-cyclodextrin. You've probably never heard of that, either, but you may well have used it. It's the active ingredient in Febreze.
"Yes, the anti-odor spray that you spray when your dog has got on your settee," Sturley said. "It's actually a cage-like molecule that traps the odorant, therefore you can't smell it anymore."
In the case of Niemann-Pick Type C, the cyclodextrin cage encloses cholesterol and helps it get to where it's supposed to go in the cell.
The discovery came about by "pure scientific serendipity," Sturley said.
Researchers testing a different drug on Niemann-Pick Type C used the Febreze ingredient to dissolve the drug and make it available to the cells.
"After a series of experiments, it was discovered that the Febreze compound was actually the active compound rather than the drug candidate that was being looked at," he said.
There are other potential areas of connection. Because of the way cholesterol functions in the brain, the Niemann-Pick Type C protein might be involved in Alzheimer's disease or Huntington's disease, Sturley said.
Given the potential of more discoveries, drug companies are putting money toward studying rare diseases.
"There's a definite awareness among drug companies that this is not a dead end," Sturley said.
Web content for WCAI-FM produced by Elsa Partan.